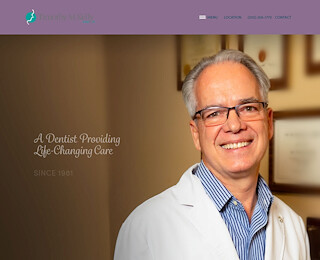 When choosing a cosmetic dentist in Albuquerque, be sure to select a practice that offers dentistry using in-house resources to eliminate the need for an expensive referral. Dr. Timothy Kelly and team are pleased to provide a full range of cosmetic and restorative dental care services that include Botox Cosmetic, porcelain veneers, direct bonding, teeth whitening, all-porcelain crowns, orthodontics, and complete smile makeover options.
No-Metal Crowns & Same-Day Crowns
We're pleased to offer all-porcelain crowns as one of the most visually appealing methods of restoring a compromised tooth. Please call us to schedule a consultation appointment to discuss options in restoring your tooth. All-porcelain crowns not only offer a superior appearance, but they also provide long-lasting value to our patients. If you'd like to learn more about all-porcelain or same-day crowns, we'd love to sit down with you and discuss your goals.
5-Star Rated Cosmetic Dentist in Albuquerque
While there's no recognized designation in dentistry called "cosmetic dentist," in Alburquerque you can choose a general dentist with cosmetic experience. Read our customer reviews on our practice's website or by visiting your preferred review directory to check on how well we are meeting the needs of the Albuquerque community. Our commitment to providing high-quality dental care to all of our patients never ends. If you're uninsured, you can take advantage of our in-house dental savings plan for the best pricing on our cosmetic services and procedures.
Straight Teeth Provide Numerous Benefits
If you're thinking about seeing an orthodontist, consider an orthodontic consultation with Dr. Timothy Kelly. Along with a range of preventive and restorative care, we are also pleased to provide orthodontic treatment with the same compassionate care you'll receive when you choose us as your family's general dentist. Conventional braces are and effective way to straighten teeth and close gaps. 
Botox For Enhanced Appearance
It often surprises our patients to learn that we offer Botox as one of our most popular cosmetic treatment options. Botox treatment requires only a small amount of time to administer (lunchtime appointments are available!) and provides immediate results. If you're looking for a more youthful appearance without invasive surgery, you can experience a dramatic reduction of fine lines, marionette lines, and wrinkles with Botox.
Creating Beautiful, Healthy Smiles
Book your next cosmetic dental visit with Dr. Timothy Kelly and our staff for your healthiest, whitest smile yet. Our convenient location on Carlisle Blvd NE is close to popular entertainment and shopping. We'd love the chance to get to know you better and help you select the right dental procedures for an amazing smile.
Cosmetic Dentist Albuquerque
Timothy M. Kelly, DMD, PA
(505) 256-1770
1441 Carlisle Blvd NE, Albuquerque, NM 87110
View Larger Map