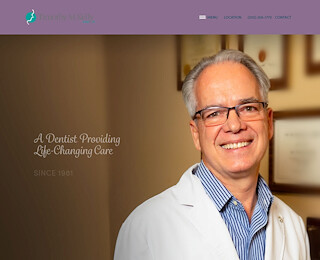 Get informed about the unique advantages of dental implants in Albuquerque when you schedule a complimentary consultation with Dr. Timothy Kelly and his team. We are pleased to offer permanent dental implants as the most popular way to replace one or more missing teeth. For attractive, durable, long-lasting results, implants remain the best option for many of our patients looking to improve form and function.
Compare Dentures With Dental Implants in Albuquerque
Cost is always a consideration when determining the right dental prosthetic. While dentures come at a more affordable up-front cost, implants still remain the better value, since they're designed to last a lifetime. Speak with Dr. Timothy Kelly and his staff about the cost comparison between dentures and implants when working within a specific budget- you'll find implants more affordable when you opt in to our practice's in-house dental savings plan.
Additional Advantages of Dental Implants
Implants certainly offer superior aesthetics and function; however, numerous additional benefits go beyond improved appearance and purpose. Since dental implants fuse with the jawbone, there's no risk of slipping or becoming dislodged when eating or speaking. Best of all, implants preserve the jawbone's structural integrity and prevent atrophy that is typical after tooth loss.
Consider Lifetime Comfort
We hear from many patients who share their stories after spending thousands of dollars on dentures that never seem to fit well, even after multiple adjustments and repairs. We believe comfort should be in the top place of every patient's list of concerns when choosing a dental prosthetic. A high level of comfort is a significant factor separating implants from dentures- once placed, you'll never have to think about your implants again. Within a day or two, you'll most likely forget you have dental implants replacing natural teeth.
Let's Not Overlook Implants' Superior Appearance
Dental implants excel in replicating the appearance of your natural teeth. When replacing one or two missing teeth, we can color match implants and shape them to look identical to existing teeth. For replacing a full arc of teeth, no other prosthetic even comes close to the beautiful results you'll experience with dental implants in Albuquerque.
An Attractive Smile Never Goes Out of Style
You can learn more about the benefits of implants by exploring the free resources located on Dr. Timothy Kelly's website or by calling our office to set up a new patient consultation. Feel free to spend time in our Smiles Gallery to see beautiful results experienced by our patients or browse our 'Services' section to find informative articles and content on the newest procedures available- like dental implants in Albuquerque.
Your Smile Tells the Story
A beautiful smile is attractive to everyone you meet throughout your day, from coworkers, friends, and family to members of the opposite sex. Choosing the right dental prosthetic is a big decision- one you should only make after consulting with our team of experts. Rest easy- we have your best interest at the heart of all we do.
Dental Implants Albuquerque
Timothy M. Kelly, DMD, PA
(505) 256-1770
1441 Carlisle Blvd NE, Albuquerque, NM 87110
View Larger Map